Curious To Know What Is there in Arborist's Toolbox?
Arborists are those individuals who have received training and experience of advanced arboriculture. To ensure the wellbeing of the trees, they also have physical skills.
Who needs arborists?
Homeowners
Real Estate
Property Builders
Construction Companies
Landscapers
Tree Care Company
Things such as pruning need not just technological expertise, such as when is the right time to prune or which pruning process to use, but also physical strength and expertise about how to execute those techniques. Their task is to determine whether a disease can be caught by the tree. The wellbeing of the trees and plants is taken care of. Maintaining the beauty of the property or the landscape. Making the best out of a certain area of the greenery. By enhancing the aesthetics, increasing the overall value of the house. Maintaining the safety of trees.
Why Do We Need Arborists?
Arborists Are Trained To Manage Trees : Arborists are trained experts in proper tree care, tree planting, and management of tree plants. You do not know every secret in various circumstances to manage the tree, but they know it very well. They are skilled and certified for everything, from pruning of trees to removal, diagnosis, illnesses and insect treatments.
They Have The Right Tools : It takes not just an axe and rope to cut or prune a tree, there are a lot of tools that are used for another purpose. No matter what kind of job arborists are given. To get the job done right and done safely, they will have access to all the proper tools and equipment.
To Reduce The Loss Tree Pruning, removal Or Trimming : Low-density hurricanes, tropical storms, strong winds leave behind devastation. Trees are responsible for the greatest destruction. The collapse of a tree in your house will cause tremendous damage to your home. An arborist regularly inspects the tree and recommends whether any safety measures need to be taken. They will decrease potential harm to your property in this way.
Keep Your Trees Perfectly Shaped : Growing the tree in a beautiful shape is a skillful art. Arborists have the benefit of working in distinct ways with various types of trees. This helps them to predict the plant's growth pattern and form. If you want to grow a tree in your workspace for commercial purposes, Often call an Arborist as he knows exactly how to do this work.
Prevent Lawsuits Against You : Manual trimming or pruning of trees can accidentally end up damaging the house of your neighbour, leading to a costly lawsuit. This lawsuit can be prevented by hiring an arborist.
In The Long Run, Save Money : Growing and holding trees is a delicate art that takes years to craft. It can cost a lot of money to rectify even minor errors, such as planting trees in the wrong place. The best idea to stop wasting money is to employ an arborist.
Tools Arborists Have In Their Tools Box Are:
Most of what an arborist finds you'll need falls into one of three categories: cutting, rigging, or climbing. Although the sharpest instruments used by an arborist may be cutting tools, they are not necessarily the most hazardous. Pole Saws, pruners, hand saws, tree loppers, hand pruners, hedge trimmers, axes, hatchets, and the oh so popular chainsaw are common tools in this group. There's plenty to tell about chainsaws. Stay tuned for our next post dedicated to this important tool on our blog. You can see blocks and pulleys for rigging equipment, friction brakes, slings (light and heavy duty), carabiners, rigging frames, power pullers, winches, cable hoists, ring slings, and a number of other pieces of hardware. We're talking about steel loops, thimble rigging, and a slew of various swivels. Yeah, and plenty of rope.
As all of our tools are dedicated to climbing and protection while climbing, climbing can also be the most dangerous aspect of becoming an arborist. Saddles, helmets, radios, gloves to aid grip, protective gear, eye protection, straps, and spurs can aid you locate arborists. Look out for ascenders, descenders, eye slings, paws, more pulleys and carabiners, and more as well. For climbing, a lot of the tools used for rigging are also used.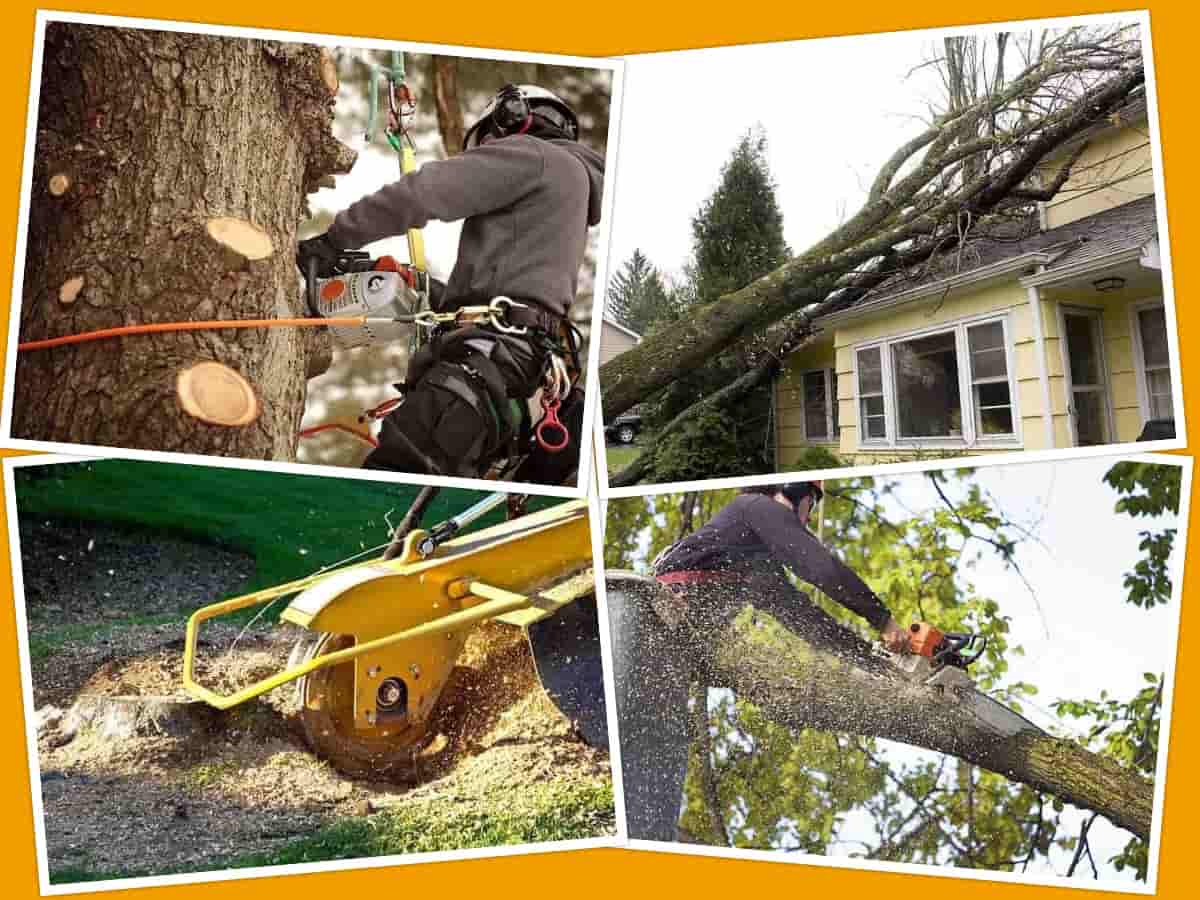 To Get a Free Quote Call Us Now !